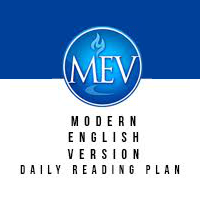 Psalms 143–145
A Psalm of David.
1 Hear my prayer, O Lord,
give ear to my supplications;
in Your faithfulness answer me,
and in Your righteousness.
2 Enter not into judgment with Your servant,
for in Your sight no one living is righteous.
3 For the enemy has persecuted my soul;
he has crushed my life down to the ground;
he has made me to dwell in darkness,
as those who have been long dead.
4 Therefore my spirit is overwhelmed within me;
my heart within me is desolate.
5 I remember the days of old;
I meditate on all Your works;
I consider the work of Your hands.
6 I stretch forth my hands unto You;
my soul thirsts after You as a thirsty land. Selah
7 Respond to me quickly, O Lord,
my spirit fails;
do not hide Your face from me,
lest I be like those who go down into the pit.
8 Cause me to hear Your lovingkindness in the morning;
for in You I have my trust;
cause me to know the way I should walk,
for I lift up my soul unto You.
9 Deliver me, O Lord, from my enemies;
I flee unto You for my protection.
10 Teach me to do Your will,
for You are my God;
may Your good spirit
lead me onto level ground.
11 Revive me, O Lord, for Your name's sake,
for Your righteousness' sake bring my soul out of trouble.
12 In Your mercy cut off my enemies,
and destroy all them who afflict my soul,
for I am Your servant.
Psalm 144
A Psalm of David.
1 Blessed be the Lord my strength,
who prepares my hands for war,
and my fingers to fight;
2 my goodness, and my fortress;
my high tower, and my deliverer,
my shield, and in whom I trust;
who subdues nations under me.
3 O Lord, who is man that You take notice of him
or the son of a man that You make account of him?
4 Man is like a breath;
his days are as a shadow that passes away.
5 Bow your heavens, O Lord, and come down;
touch the mountains, and they shall smoke.
6 Cast forth lightning, and scatter them;
shoot out Your arrows, and destroy them.
7 Send Your hand from above;
rescue me, and deliver me
out of the great waters,
from the hand of foreigners,
8 whose mouth speaks lies,
and their right hand is a right hand of falsehood.
9 I will sing a new song unto You, O God,
on a harp and an instrument of ten strings I will sing praises unto You;
10 it is He who gives victory to kings,
who delivers David His servant from the cruel sword.
11 Rescue me and deliver me
from the hand of foreigners,
whose mouths speak lies
and whose right hand is a right hand of falsehood.
12 May our sons in their youth
be like plants full grown,
and our daughters like cornerstones,
cut in the similitude of a palace,
13 that our granaries may be full,
providing all manner of produce,
that our sheep may bring forth
thousands and ten thousands in our fields,
14 and may our cattle be strong in labor.
May there be no breaking in
or going out,
and no wailing in our streets.
15 Blessed are the people who have such things;
indeed, blessed are the people whose God is the Lord.
Psalm 145
A Psalm of Praise. Of David.
1 I will exalt you, my God and King,
and I will bless Your name forever and ever.
2 Every day I will bless You,
and I will praise Your name forever and ever.
3 Great is the Lord, and greatly to be praised,
and His greatness is unfathomable.
4 One generation shall praise Your works to another
and shall declare Your mighty acts.
5 I will speak of the glorious honor of Your majesty
and of Your wondrous works.
6 They shall speak of the might of Your awesome acts,
and I will declare Your greatness.
7 They shall abundantly declare the fame of Your great goodness
and shall sing of Your righteousness.
8 The Lord is gracious and full of compassion,
slow to anger, and great in mercy.
9 The Lord is good to all,
and His compassion is over all His works.
10 All Your works shall praise You, O Lord,
and Your godly ones shall bless You.
11 They shall speak of the glory of Your kingdom
and talk of Your power,
12 to make known to people His mighty acts,
and the glorious majesty of His kingdom.
13 Your kingdom is an everlasting kingdom,
and Your dominion endures throughout all generations.
14 The Lord upholds all who fall,
and raises up all who are bowed down.
15 The eyes of all wait upon You,
and You give them their food in due season.
16 You open Your hand
and satisfy the desire of every living thing.
17 The Lord is righteous in all His ways
and loving in all His works.
18 The Lord is near to all those who call upon Him,
to all who call upon Him in truth.
19 He will fulfill the desire of those who fear Him;
He also will hear their cry and will save them.
20 The Lord preserves all those who love Him,
but all the wicked He will destroy.
21 My mouth shall speak the praise of the Lord,
and let all people bless His holy name
forever and ever.
1 Corinthians 14:21–40
21 In the law it is written:
"With men of other tongues
and other lips
I will speak to this people;
but even then they will not hear Me,"
says the Lord.
22 So tongues are for a sign, not to believers, but to unbelievers. But prophesying does not serve unbelievers, but believers. 23 Therefore if the whole church assembles in one place and all speak with tongues, and those who are unlearned or unbelievers come in, will they not say that you are out of your mind? 24 But if all prophesy and there comes in one who does not believe or one unlearned, he is convinced by all and judged by all. 25 Thus the secrets of his heart are revealed. And so falling down on his face, he will worship God and report that God is truly among you.
26 How is it then, brothers? When you come together, every one of you has a psalm, a teaching, a tongue, a revelation, and an interpretation. Let all things be done for edification. 27 If anyone speaks in an unknown tongue, let it be by two, or at the most by three, and each in turn, and let one interpret. 28 But if there is no interpreter, let him remain silent in the church, and let him speak to himself and to God.
29 Let two or three prophets speak, and let the others judge. 30 If anything is revealed to another that sits by, let the first keep silent. 31 For you may all prophesy one by one, that all may learn and all may be encouraged. 32 The spirits of the prophets are subject to the prophets. 33 For God is not the author of confusion, but of peace, as in all churches of the saints.
34 Let your women remain silent in the churches. For they are not permitted to speak. They are commanded to be under obedience, as the law also says. 35 If they will learn anything, let them ask their husbands at home, for it is a shame for women to speak in the church.
36 What? Did the word of God come from you? Or did it come to you only? 37 If anyone thinks himself to be a prophet or spiritual, let him acknowledge that what I am writing you is a command of the Lord. 38 But if anyone is ignorant, let him be ignorant.
39 Therefore, brothers, eagerly desire to prophesy, and do not forbid speaking in tongues. 40 Let all things be done decently and in order.