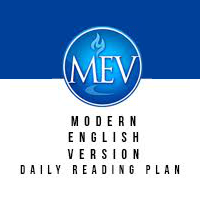 2 Chronicles 13–14
1 In the eighteenth year of King Jeroboam, Abijah became king of Judah. 2 He reigned for three years in Judah, and his mother's name was Micaiah, the granddaughter of Uriel of Gibeah. And there was a war between Abijah and Jeroboam. 3 Abijah set the battle in order with an army of valiant men of war, four hundred thousand choice men. Jeroboam also drew up battle lines against him with an army of eight hundred thousand men, mighty men of valor. 4 Then Abijah went up to Mount Zemaraim that is in the hills of Ephraim, and he said, "Listen to me, Jeroboam and all Israel! 5 Do you all not know that the Lord God of Israel has perpetually given the kingdom of Israel to David, even to him and to his sons with a covenant of salt? 6 And Jeroboam the son of Nebat, the servant of Solomon son of David, stood up and rebelled against his lord Rehoboam. 7 Then vain, worthless men gathered together around him and defied Rehoboam son of Solomon. And Rehoboam was young and timid in heart and was not strong before them.
8 "And now you think that you can withstand before the kingdom of the Lord by the hand of the sons of David. And you all are a great multitude, and with you are the golden calves that Jeroboam has made for you to be gods. 9 Have you all not driven out the priests of the Lord, even the Levites and sons of Aaron, and made for yourselves priests from the peoples of other lands? Whoever comes to be dedicated and has in his hand a young bull or seven rams becomes a priest to what is not a god.
10 "But for us, the Lord is our God, and we have not abandoned Him. And our priests serve the Lord and are sons of Aaron, Levites with their service. 11 They sacrifice burnt offerings to the Lord every morning and evening and put out an incense of spices. They also set the showbread in place on the ritual table and set the golden lampstand with its lamps to burn every evening. For we keep the duty of the Lord our God, but you all have abandoned Him. 12 God is with us as a leader, and His priests with their battle trumpets to call for battle against you all. O sons of Israel, do not fight against the Lord the God of your fathers because you will not find success."
13 So Jeroboam went around them with an ambush to come from behind them. Those from Israel were in front of Judah, while the ambush was behind them. 14 Then Judah turned and saw that the battle was both in front of and behind them. Then they cried out to the Lord, and the priests sounded their trumpets. 15 Then the men from Judah shouted out; and it happened when Judah shouted out, God struck down Jeroboam and all Israel before Abijah and Judah. 16 The men of Israel fled before Judah, and God gave them into their hand. 17 Abijah and his people struck them down with a great slaughter, and the slain from Israel who fell that day were five hundred thousand choice men. 18 So the sons of Israel were subdued at that time, and the people of Judah were strong for they depended on the Lord God of their fathers.
19 And Abijah chased after Jeroboam and captured cities from him: Bethel, Jeshanah, and Ephron with their surrounding villages. 20 And Jeroboam did not again recover his strength in the days of Abijah, and the Lord struck down Jeroboam, and he died.
21 So Abijah grew strong and took fourteen wives and had twenty-two sons and sixteen daughters.
22 And the remainder of the acts of Abijah, both his ways and words, are written in the story of the prophet Iddo.
Chapter 14
1 And Abijah slept with his fathers, and they buried him in the City of David. Asa his son then reigned in his place. In his days the land was quiet for ten years.
2 Asa did what was good and right in the eyes of the Lord his God. 3 He took down the foreign altars and high places, and he shattered the pillars and cut down the images of Asherah. 4 Then he urged Judah to seek the Lord the God of their fathers and to keep the law and commandments. 5 And he also removed all the high places and incense altars in the cities in Judah. And the kingdom was at rest under Asa. 6 He built fortified cities in Judah because the land was quiet; and there was no war in these years, for the Lord gave peace to him.
7 And he said to Judah, "Let us build up these cities and let us surround them with walls, towers, gates, and bars for the land before us is still ours because we have sought after the Lord our God. We have sought Him, and He has given us peace all around." So they built and had success.
8 And it happened that Asa had an army from Judah carrying large shields and spears numbering three hundred thousand. And from Benjamin he had an army carrying shields and bows numbering two hundred eighty thousand. All of these were mighty men of valor.
9 But Zerah the Ethiopian Cushite came out against them with an army of a million men and three hundred chariots. And he came up to Mareshah. 10 Then Asa went out to engage him, and they arranged for battle in the Valley of Zephathah near Mareshah.
11 And Asa cried out to the Lord his God, and said, "Lord, it is nothing with You to help, whether with many or with those who have no power. Help us, O Lord our God; for we trust in You, and in Your name we come against this multitude. O Lord, You are our God. Let no man prevail against You."
12 So the Lord struck down the Ethiopian Cushites before Asa and Judah, and the Cushites fled. 13 Then Asa and those with him pursued them until Gerar. And the Cushites fell till there was not one left alive because they were struck down before the Lord and His army. And those in Judah carried off a very great plunder. 14 And they struck down all the cities surrounding Gerar because the terror of the Lord was on them. And they plundered all the cities because there was a great amount of possessions in them. 15 And they also struck the tents holding livestock, and they carried off sheep and a great amount of camels. Then they returned to Jerusalem.
John 12:1–26
1 Six days before the Passover Jesus came to Bethany, where Lazarus was, who had been dead, whom He had raised from the dead. 2 They prepared a supper for Him there. Martha served, but Lazarus was one of those who sat at the table with Him. 3 Then Mary took a pint of very costly ointment made from pure nard, and anointed the feet of Jesus, and wiped His feet with her hair. The house was filled with the fragrance of the ointment.
4 But one of His disciples, Judas Iscariot, Simon's son, who would betray Him, said, 5 "Why was this ointment not sold for three hundred denarii and given to the poor?" 6 He said this, not because he cared for the poor, but because he was a thief. And having the money box, he used to steal what was put in it.
7 But Jesus said, "Leave her alone. She has kept this for the day of My burial. 8 For you always have the poor with you, but you do not always have Me."
9 When many of the Jews learned that He was there, they came, not for Jesus' sake only, but that they might also see Lazarus, whom He had raised from the dead. 10 So the chief priests planned to put Lazarus to death also, 11 because on account of him many of the Jews went away and believed in Jesus.
12 On the next day a great crowd that had come to the feast heard that Jesus was coming to Jerusalem. 13 They took branches of palm trees, and went out to meet Him, and cried out:
"Hosanna!
'Blessed is He who comes in the name of the Lord!'
The King of Israel!"
14 Then Jesus, having found a young donkey, sat on it. As it is written:
15 "Fear not, daughter of Zion;
see, your King is coming,
sitting on a donkey's colt."
16 His disciples did not understand these things at first. But when Jesus was glorified, they remembered that these things were written about Him and that they had done these things to Him.
17 Now the crowd that was with Him when He called Lazarus out of the tomb and raised him from the dead bore witness. 18 The crowd went and met Him for this reason: They heard that He had performed this sign. 19 So the Pharisees said among themselves, "See, you are gaining nothing! Look, the world has followed Him!"
20 Now there were some Greeks among those who went up to worship at the feast. 21 They came to Philip, who was from Bethsaida of Galilee, and asked him, "Sir, we want to see Jesus." 22 Philip came and told Andrew, and in turn Andrew and Philip told Jesus.
23 Jesus answered them, "The hour has come for the Son of Man to be glorified. 24 Truly, truly I say to you, unless a grain of wheat falls into the ground and dies, it remains alone. But if it dies, it bears much fruit. 25 He who loves his life will lose it. And he who hates his life in this world will keep it for eternal life. 26 If anyone serves Me, he must follow Me. Where I am, there will My servant be also. If anyone serves Me, the Father will honor him."