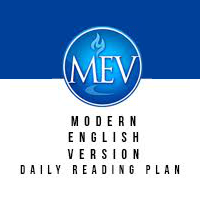 Judges 11–12
1 Now Jephthah the Gileadite was a mighty man of valor, but he was the son of a prostitute. Gilead was the father of Jephthah. 2 Gilead's wife also bore him sons. His wife's sons grew up and drove Jephthah away. They said to him, "You will not inherit anything from our father's house because you are the son of another woman." 3 So Jephthah fled from his brothers and lived in the land of Tob. Men of ill repute gathered around Jephthah and went out with him.
4 Some time passed, then the Ammonites waged war with Israel. 5 When the Ammonites waged war with Israel, the elders of Gilead went to bring Jephthah back from the land of Tob. 6 They said to Jephthah, "Come and be our leader so that we may fight the Ammonites."
7 Jephthah said to the elders of Gilead, "Did you not hate me and drive me out of my father's house? Why have you come to me now that you are in trouble?"
8 The elders of Gilead said to Jephthah, "Even so, we have turned to you. Come with us and fight the Ammonites. You will be ruler over all the inhabitants of Gilead."
9 Jephthah said to the elders of Gilead, "If you bring me back to wage war against the Ammonites, and the Lord gives them to me, then I will be your ruler."
10 The elders of Gilead said to Jephthah, "May the Lord be a witness between us if we do not act according to your word." 11 So Jephthah went with the elders of Gilead. The people set him over them as ruler and leader. And Jephthah spoke all his words before the Lord in Mizpah.
12 Jephthah sent messengers to the Ammonite king to say, "What problem is there between you and me, that you have come to me to wage war in my land?"
13 The Ammonite king said to the messengers of Jephthah, "Because when Israel came up from Egypt, they took my land, from the Arnon to the Jabbok and as far as the Jordan. Now return it peacefully."
14 Again Jephthah sent messengers to the Ammonite king, 15 and said to him,
"Jephthah says this: Israel did not take the land of Moab, nor the Ammonite land; 16 for when Israel came up from Egypt, they went into the desert as far as the Red Sea and came to Kadesh. 17 Then Israel sent messengers to the king of Edom, saying, 'Please let us pass through your land.' Yet the king of Edom would not listen. They also sent messengers to the king of Moab, but he was unwilling. So Israel stayed at Kadesh.
18 "They went into the wilderness, around the lands of Edom and Moab. They went east of the land of Moab and set up camp on the other side of the River Arnon. They did not cross the boundary of Moab, for the River Arnon was the boundary of Moab.
19 "Then Israel sent messengers to Sihon king of the Amorites, who ruled in Heshbon. Israel said to him, 'Please let us pass through your land to our home.' 20 Yet Sihon did not trust Israel to pass through his territory, so Sihon gathered all his people and set up camp in Jahaz to fight with Israel.
21 "The Lord God of Israel gave Sihon and all his people into the hands of Israel, and they struck them down. So Israel took possession of all the land of the Amorites who lived in that land. 22 They took possession of all of the territory of the Amorites, from the Arnon to the Jabbok and from the desert to the Jordan.
23 "Now that the Lord God of Israel has driven out the Amorites from before His people Israel, should you take it? 24 Will you not take possession of whatever Chemosh your god gives you? So everything that the Lord our God possesses before us, we will take possession of it. 25 Now are you really better than Balak son of Zippor, the king of Moab? Did he ever contend with Israel or wage war with them? 26 Israel has lived in Heshbon and its nearby towns, in Aroer and its nearby towns, and in all the cities along the banks of the River Arnon for three hundred years. Why did you not take them back during that time? 27 So I have not sinned against you, but it is you who are doing evil to me by waging war against me. May the Lord, the Judge, judge today between the children of Israel and the Ammonites."
28 Yet the Ammonite king would not listen to the message that Jephthah had sent him.
29 Then the Spirit of the Lord came on Jephthah and he passed through Gilead and Manasseh, and passed through Mizpah of Gilead, and went on to the Ammonites. 30 Jephthah made a vow to the Lord, "If You will indeed give the Ammonites into my hands, 31 then whatever comes out from the door of my house to meet me, when I return safely from the Ammonites, will surely be the Lord's, and I will offer it up as a burnt offering."
32 So Jephthah crossed over to the Ammonites to wage war against them, and the Lord gave them into his hands. 33 He struck them down from Aroer to Minnith, twenty cities, and as far as Abel Keramim. The defeat was very severe, and the Ammonites were humbled before the children of Israel.
34 When Jephthah went to his house at Mizpah, there was his daughter coming out to meet him, dancing with a tambourine. She was his only child. Other than her, he had neither son nor daughter. 35 When he saw her, he ripped up his clothes and said, "Alas, my daughter! You have brought utter disaster to me. You are my undoing, for I have given my word to the Lord, and I cannot take it back."
36 She said to him, "My father, you have opened your mouth to the Lord. Do to me what has come out of your mouth, because the Lord worked vengeance upon your enemies, the Ammonites." 37 Then she said to her father, "Let this be done for me: Give me two months, and I and my friends will wander the hill country and mourn over my virginity."
38 He said, "Go," and he sent her away for two months. She and her friends went and mourned over her virginity in the hill country. 39 At the end of two months she returned to her father, and he did to her according to the vow that he had made. She had not ever slept with a man.
So it became a custom in Israel 40 that the women of Israel would commemorate the daughter of Jephthah the Gileadite for four days each year.
Chapter 12
1 The men of Ephraim gathered together and crossed over to Zaphon. They said to Jephthah, "Why did you go to wage war with the Ammonites and not call us to go with you? We will burn down your house right on top of you."
2 Jephthah said to them, "My people and I were in a very great conflict with the Ammonites. I called you, but you did not save me from their hands. 3 When I saw that you were not going to save me, I took my life in my own hands and crossed over to the Ammonites. Then the Lord gave them into my hands. Now why have you come up to me today to wage war against me?"
4 Then Jephthah assembled all the men of Gilead and fought with Ephraim. The men of Gilead struck Ephraim down, for they had said, "You Gileadites are fugitives in Ephraim, living in Ephraim and Manasseh." 5 Gilead captured the fords of the Jordan River leading to Ephraim. Whenever an Ephraimite fugitive would say, "Let me cross," the Gileadite men would say to him, "Are you an Ephraimite?" If he said, "No," 6 then they would say to him, "Say, 'Shibboleth'!" Yet he would say, "Sibboleth," for he could not pronounce it correctly. Then they would grab him and kill him at the Jordan fords. During that time forty-two thousand from Ephraim fell.
7 Jephthah judged Israel for six years. When Jephthah the Gileadite died, he was buried among the cities of Gilead.
8 After him, Ibzan of Bethlehem judged Israel. 9 He had thirty sons, and he gave thirty daughters in marriage outside his clan; and he brought thirty daughters from outside for his sons. He judged Israel for seven years. 10 Then Ibzan died and was buried in Bethlehem.
11 After him, Elon the Zebulunite judged Israel. He judged Israel for ten years. 12 Elon the Zebulunite died and was buried in Aijalon in the land of Zebulun.
13 After him, Abdon son of Hillel the Pirathonite judged Israel. 14 He had forty sons and thirty grandsons who rode seventy donkeys. He judged Israel for eight years. 15 Abdon son of Hillel the Pirathonite died and was buried in Pirathon in the land of Ephraim, in the Amalekite hill country.
Luke 6:1–26
1 On the second Sabbath after the first, He went through the grain fields, and His disciples plucked and ate the heads of grain, rubbing them in their hands. 2 Some of the Pharisees said to them, "Why are you doing what is not lawful to do on the Sabbath?"
3 Jesus answered them, "Have you not read what David did when he and those who were with him were hungry? 4 He went into the house of God, and took and ate the ritual bread, and also gave it to those who were with him. This was not lawful, but for the priests only to eat." 5 Then He said to them, "The Son of Man is Lord even of the Sabbath."
6 On another Sabbath, when He entered the synagogue and taught, there was a man whose right hand had withered. 7 The scribes and the Pharisees watched Him to see whether He would heal on the Sabbath, so that they might find an accusation against Him. 8 But He knew their thoughts, and He said to the man who had the withered hand, "Rise and stand in front." So he rose and stood in front.
9 Then Jesus said to them, "I will ask you one thing: Is it lawful on the Sabbath to do good or to do evil, to save life or to destroy it?"
10 Then looking around at them all, He said to the man, "Stretch out your hand." He did so, and his hand was restored as whole as the other. 11 But they were filled with madness and discussed with each other what they might do to Jesus.
12 In these days He went out to the mountain to pray and continued all night in prayer to God. 13 When it was day, He called for His disciples, and of them He chose twelve, whom He named apostles: 14 Simon, whom He named Peter, and Andrew his brother, and James and John, and Philip and Bartholomew, 15 and Matthew and Thomas, and James the son of Alphaeus, and Simon called the Zealot, 16 and Judas the son of James, and Judas Iscariot, who became a traitor.
17 He came down with them and stood on a level place with a crowd of His disciples and a great crowd of people from all Judea and Jerusalem, and from the seacoast of Tyre and Sidon, who came to hear Him and be healed of their diseases, 18 including those who were vexed by unclean spirits. And they were healed. 19 The whole crowd tried to touch Him, for power went out from Him and healed them all.
20 He lifted up His eyes on His disciples, and said:
"Blessed are you poor,
for yours is the kingdom of God.
21 Blessed are you who hunger now,
for you shall be filled.
Blessed are you who weep now,
for you shall laugh.
22 Blessed are you when men hate you,
and when they separate you from their company and insult you,
and cast out your name as evil,
on account of the Son of Man.
23 "Rejoice in that day, and leap for joy, for indeed, your reward is great in heaven. For in like manner their fathers treated the prophets.
24 "But woe to you who are rich,
for you have received your consolation.
25 Woe to you who are filled,
for you shall hunger.
Woe to you who laugh now,
for you shall mourn and weep.
26 Woe to you, when all men speak well of you,
for so their fathers spoke of the false prophets."