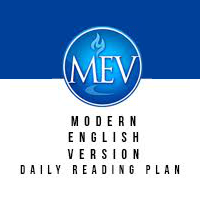 Psalms 43–45
1 Vindicate me, O God,
and plead my cause against an ungodly nation;
deliver me from the deceitful and unjust man.
2 For You are the God of my refuge;
why have You rejected me?
Why do I walk about mourning
because of the oppression of the enemy?
3 Send out Your light and Your truth.
Let them lead me;
let them bring me to Your holy hill,
and to Your dwelling place.
4 Then I will go to the altar of God,
to the God of my joyful gladness;
with the harp I will give thanks to You,
O God, my God.
5 Why are you cast down, O my soul?
And why are you disquieted within me?
Hope in God;
for I will yet give Him thanks,
the salvation of my countenance and my God.
Psalm 44
For the Music Director. A Contemplative Maskil of the sons of Korah.
1 We have heard with our ears, O God,
our fathers have told us
what work You did in their days,
in the days of old:
2 how You drove out the nations with Your hand,
and planted others instead;
how You afflicted peoples,
and sent them away.
3 For they did not take possession of the land by their own sword,
nor did their own arm save them;
but it was Your right hand, and Your arm,
and the light of Your countenance, because You had favor on them.
4 You are my King, O God;
command deliverances for Jacob.
5 Through You we will push down our opponents;
through Your name we will trample those who rise up against us.
6 For I will not trust in my bow,
nor will my sword save me.
7 But You have saved us from our opponents,
and have put to shame those who hate us.
8 In God we boast all the day long,
and give thanks to Your name forever. Selah
9 But You have rejected us and put us to shame,
and do not go out with our armies.
10 You make us to turn back from the opponent,
and those who hate us make us their spoil.
11 You have placed us like sheep for prey,
and have scattered us among the nations.
12 You sell Your people for nothing,
and do not increase Your wealth by their sale.
13 You make us a reproach to our neighbors,
a scorn and a derision to those who surround us.
14 You make us a byword among the nations,
a shaking of the head among the people.
15 All day long my reproach is before me,
and the shame of my face covers me,
16 from the voice of him who reproaches and reviles,
by reason of the enemy and avenger.
17 All this is come on us,
yet we have not forgotten You,
nor have we dealt falsely in Your covenant.
18 Our heart is not turned back,
nor have our steps deviated from Your way,
19 though You have crushed us in the place of jackals,
and covered us with the shadow of death.
20 If we have forgotten the name of our God,
or stretched out our hands to a strange god,
21 would not God search this out?
For He knows the secrets of the heart.
22 Yes, for Your sake we are killed all the day long;
we are considered like sheep for the slaughter.
23 Awake; why do You sleep, O Lord?
Arise; do not reject us forever.
24 Why do You hide Your face,
and forget our affliction and our oppression?
25 For our soul is bowed down to the dust;
our body cleaves to the earth.
26 Arise, be our help,
and redeem us for the sake of Your lovingkindness.
Psalm 45
For the Music Director. To the melody of "Lilies." A Contemplative Maskil of the sons of Korah. A love song.
1 My heart is overflowing with a good thought;
I am speaking my works for the king;
my tongue is the pen of a skilled scribe.
2 You are fairer than all the sons of men;
favor is poured on your lips;
therefore God has blessed you forever.
3 Gird your sword on your thigh, O mighty one,
with your splendor and your majesty.
4 In your majesty ride prosperously
because of truth and meekness and righteousness;
and your right hand will teach you awesome things.
5 Your arrows are sharp in the heart of the king's enemies;
peoples will fall under you.
6 Your throne, O God, is forever and ever;
the scepter of Your kingdom is an upright scepter.
7 You love righteousness and hate wickedness;
therefore God, your God, anointed you
with the oil of gladness above your companions.
8 All your garments are fragrant with myrrh and aloes and cassia;
from the ivory palaces stringed instruments make you glad.
9 Kings' daughters are among your honorable women;
at your right hand stands the queen in gold of Ophir.
10 Listen, O daughter, consider and incline your ear;
forget your own people, and your father's house,
11 and the king will desire your beauty.
Since he is your lord, bow to him.
12 The daughter of Tyre will be there with a gift;
even the rich among the people will entreat your favor.
13 The royal daughter is all glorious within her chamber;
her clothing is plaited gold.
14 She shall be brought to the king in embroidered garments;
the virgins, her companions who follow her,
shall be brought to you.
15 With gladness and rejoicing they shall be brought;
they shall enter into the king's palace.
16 Your sons shall succeed your fathers;
you will make them princes in all the land.
17 I will cause your name to be remembered in all generations;
therefore the people will praise you forever and ever.
Acts 27:27–44
27 When the fourteenth night came, while we were drifting in the Adriatic Sea, about midnight the sailors supposed that they were approaching land. 28 They took soundings and found the water to be one hundred and twenty feet deep. When they had gone a little farther, they took soundings again and found it to be ninety feet deep. 29 Fearing that we might run aground on the rocks, they dropped four anchors from the stern and prayed for day to come. 30 When the sailors strove to abandon ship and lowered the rowboat into the sea, under the pretext of lowering anchors out of the bow, 31 Paul said to the centurion and to the soldiers, "Unless these sailors remain in the ship, you cannot be saved." 32 Then the soldiers cut away the ropes of the rowboat and let her fall off.
33 As day was about to dawn, Paul asked them all to eat, saying, "Today is the fourteenth day that you have waited and continued without food, having eaten nothing. 34 So I urge you to eat. This is for your preservation, for not a hair shall fall from your head." 35 When he had said this, he took some bread and gave thanks to God in the presence of them all. And when he had broken it he began to eat. 36 Then they were all encouraged, and they also ate food themselves. 37 In all we were two hundred and seventy-six persons on the ship. 38 When they had eaten enough, they lightened the ship and threw the wheat into the sea.
39 When it was day, they did not recognize the land. But they noticed a bay with a shore, into which they were determined to run the ship if possible. 40 Casting off the anchors, they left them in the sea while loosening the ropes that secured the rudders. Then they hoisted the mainsail to the wind and made for shore. 41 But striking a sandbar where two seas met, they ran the ship aground. The bow stuck and remained immovable, but the stern was broken up by the violent surf.
42 The soldiers' plan was to kill the prisoners, lest any of them should swim away and escape. 43 But the centurion, wanting to save Paul, prevented them from their intent and ordered those who could swim to abandon ship first and get to land, 44 and the rest on planks or on pieces of the ship. And in this way they all escaped safely to land.