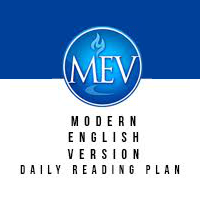 1 Samuel 17–18
1 Now the Philistines gathered their armies for battle, and were gathered at Sokoh, which belongs to Judah. And they camped between Sokoh and Azekah in Ephes Dammim. 2 Saul and Israel's fighting men were gathered, and they camped in the Valley of Elah. And they drew up in battle order to meet the Philistines. 3 Now the Philistines were standing at the base of the mountain on the one side, and Israel was standing at the base of the mountain on the other side, and the valley was between them.
4 There went out a champion from the camp of the Philistines, Goliath was his name, from Gath, whose height was six cubits and a span. 5 He had a helmet of bronze on his head, and he was armed with a coat of mail. Now the weight of the bronze coat was five thousand shekels. 6 He had greaves of bronze on his legs and a bronze javelin between his shoulders. 7 The staff of his spear was like a weaver's beam. His iron spearhead weighed six hundred shekels. And a shield-bearer was walking before him.
8 He stood and called out to the ranks of Israel, "Why have you come out to line up for battle? Am not I the Philistine, and you the servants of Saul? Choose for yourselves a man and let him come down to me. 9 If he is able to fight with me and to strike me down, then we will be your servants. But if I prevail against him and strike him down, then you will be our servants and will serve us." 10 The Philistine said, "I defy the battle lines of Israel this day. Give me a man, and let us fight together." 11 When Saul and all Israel heard these words of the Philistine, they were filled with terror and were greatly afraid.
12 Now David was the son of that Ephrathite of Bethlehem in Judah whose name was Jesse, who had eight sons. And the man was old in the days of Saul and advanced in years. 13 The three eldest sons of Jesse went and followed Saul to the battle. And the names of his three sons that went to the battle were Eliab the firstborn, and next to him Abinadab, and the third was Shammah. 14 As for David, he was the youngest. The three eldest followed Saul, 15 but David would go back and forth from Saul to shepherd his father's flock in Bethlehem.
16 The Philistine stepped forward morning and evening and took his stand daily for forty days.
17 Then Jesse said to David his son, "Take now for your brothers an ephah of this parched grain and these ten loaves and run to the camp to your brothers. 18 Carry these ten cheeses to the captain of their thousand, and look into your brothers' health, and bring back news of them." 19 Now Saul, and they, and all Israel's fighting men were in the Valley of Elah fighting with the Philistines.
20 So David rose up early in the morning and left the flock with a keeper. And he carried away the food and went as Jesse had commanded him. And when he came to the encampment, the army was going out to the battle line, and they shouted a war cry. 21 And Israel and the Philistines ordered themselves in battle lines, army against army. 22 David left his things with the keeper of the equipment, and he ran to the battle line. And he went and greeted his brothers. 23 As he was speaking with them, the champion, Goliath, the Philistine from Gath, was going up from the battle line of the Philistines. And he spoke these same words and David heard them. 24 When all Israel's fighting men saw the man, they fled from him, and were very afraid.
25 The men of Israel said, "Have you seen this man who has come up? Surely he has come up to defy Israel, and it will be that the man who kills him, the king will enrich him with great riches, will give him his daughter, and will make his father's house exempt from taxes in Israel."
26 David spoke to the men that stood by him, saying, "What will be done for the man that kills this Philistine and takes away this reproach from Israel? For who is this uncircumcised Philistine that he should defy the armies of the living God?"
27 And the people answered him in the same way, saying, "So will it be done to the man who kills him."
28 Eliab his eldest brother heard when he spoke to the men. And Eliab's anger was kindled against David, and he said, "Why have you come down here? And with whom have you left those few sheep in the wilderness? I know your pride and the evil of your heart. For you have come down that you might see the battle."
29 David said, "What have I done now? Was it not only a word?" 30 And he turned from him toward another and spoke in the same way. And the people answered him again as at the first. 31 When the words which David spoke were heard, they reported them to Saul and he sent for him.
32 David said to Saul, "Let no man's heart fail because of him. Your servant will go and fight with this Philistine."
33 Saul said to David, "You are not able to go against this Philistine to fight with him. For you are but a youth, and he has been a man of war from his youth."
34 David said to Saul, "Your servant was a shepherd for my father's flock, and the lion came and the bear, and took a lamb out of the flock. 35 And I went out after him, and struck him, and delivered it out of his mouth. And when he arose against me, I took hold of his beard, struck him, and killed him. 36 Your servant slew both the lion and the bear. And this uncircumcised Philistine will be as one of them, because he has reviled the armies of the living God." 37 David said, "The Lord who delivered me out of the paw of the lion and out of the paw of the bear, He will deliver me out of the hand of this Philistine."
And Saul said to David, "Go, and the Lord be with you."
38 Saul clothed David with his armor. And he put a helmet of bronze on his head. He also clothed him with a coat of mail. 39 David secured his sword to his armor and tried to walk, but he was not used to it, for he had not tested them.
And David said to Saul, "I cannot walk with these, for I have not tested them." So David took them off. 40 He took his staff in his hand and chose for himself five smooth stones out of the brook. And he put them in his shepherd's bag, even in a pouch. And his sling was in his hand. Then he drew near to the Philistine.
41 The Philistine came walking and drew near to David, and the man bearing the shield went before him. 42 When the Philistine looked and saw David, he despised him. For he was a youth and ruddy with a handsome appearance. 43 The Philistine said to David, "Am I a dog, that you come to me with sticks?" Then the Philistine cursed David by his gods. 44 The Philistine said to David, "Come to me, and I will give your flesh to the birds of the heavens and to the beasts of the field."
45 Then David said to the Philistine, "You come to me with a sword, a spear, and a shield, but I come to you in the name of the Lord of Hosts, the God of the armies of Israel, whom you have reviled. 46 This day will the Lord deliver you into my hand. And I will strike you down and cut off your head. Then I will give the corpses of the Philistine camp this day to the birds of the air and to the beasts of the earth so that all the earth may know that there is a God in Israel. 47 And then all this assembly will know that it is not by sword and spear that the Lord saves. For the battle belongs to the Lord, and He will give you into our hands."
48 When the Philistine arose and came near to meet David, David hurried and ran toward the battle line to meet the Philistine. 49 David put his hand in his bag and took from there a stone. And he slung it and struck the Philistine in his forehead. Therefore the stone sunk into his forehead and he fell upon his face to the ground.
50 So David prevailed over the Philistine with a sling and with a stone. And he struck down the Philistine and slew him, but there was no sword in the hand of David.
51 Therefore David ran and stood over the Philistine. Then he took his sword and drew it from out of its sheath, and he finished him off and he cut off his head with it.
When the Philistines saw their champion was dead, they fled. 52 And the fighting men of Israel and Judah arose and shouted. And they pursued the Philistines from the entrance of the Valley of Elah as far as the gates of Ekron. So the Philistine dead lay slain on the road to Shaaraim as far as Gath and Ekron. 53 Then the children of Israel returned from chasing after the Philistines and they plundered their tents.
54 David took the head of the Philistine and brought it to Jerusalem, but he put his armor in his tent.
55 When Saul saw David going out against the Philistine, he said to Abner, the commander of the army, "Whose son is this youth, Abner?"
And Abner said, "As your soul lives, O king, I do not know."
56 The king said, "Inquire whose son the young man is."
57 So when David returned from slaying the Philistine, Abner took him and brought him before Saul with the Philistine's head in his hand.
58 Saul said to him, "Whose son are you, young man?"
And David answered, "I am the son of your servant, Jesse the Bethlehemite."
Chapter 18
1 When he had finished speaking to Saul, the soul of Jonathan was bound to the soul of David, so that Jonathan loved him as his own soul. 2 And Saul took him that day and would not permit him to return home to his father's house. 3 Then Jonathan and David made a covenant because he loved him as his own soul. 4 So Jonathan stripped himself of the robe that was on him and gave it to David, even his garments, his sword, his bow, and his belt.
5 David went out wherever Saul sent him, and he was successful. So Saul set him over the men of war, and it was pleasing in the sight of all the people and also in the sight of the servants of Saul.
6 When they came home, as David was returning from slaying the Philistine, the women came out from all cities of Israel to meet King Saul, singing and dancing, with tambourines, with joy, and with musical instruments. 7 The dancing women sang and said,
"Saul has slain his thousands,
and David his ten thousands."
8 Saul became very angry, and this saying was displeasing to him. Therefore he said, "They have ascribed to David ten thousands, but to me they have ascribed thousands. Now what remains for him to have but the kingdom?" 9 So Saul was suspicious of David from that day and forward.
10 It came to pass the following day, that an evil spirit from God came upon Saul, so that he raved in the midst of the house. And David was playing the lyre, as at other times. Now there was a spear in Saul's hand. 11 And Saul threw the spear. For he said, "I will pin David to the wall." But David avoided him two times.
12 Saul was afraid of David because the Lord was with him but had departed from Saul. 13 Therefore Saul removed him from his presence and placed him as his captain over a thousand. And he went out and came in before the people. 14 David was successful in all his ways and the Lord was with him. 15 When Saul saw that he was very successful, he was afraid of him. 16 Now all Israel and Judah loved David, because he went out and came in before them.
17 Saul said to David, "Behold my elder daughter Merab, I will give her to you as your wife. Only be valiant for me, and fight the battles of the Lord." For Saul said, "Let not my hand be against him, but let the hand of the Philistines be against him."
18 But David said to Saul, "Who am I? And what is my life, or my father's family in Israel, that I should be son-in-law to the king?" 19 So when it was time that Merab, daughter of Saul, should have been given to David, she was given to Adriel the Meholathite for a wife.
20 Now Michal, daughter of Saul, loved David and they told Saul, and the thing pleased him. 21 Saul said, "I will give her to him that she may be a snare to him, and so that the hand of the Philistines may be against him." Therefore Saul said to David, "For a second time, you may be my son-in-law today."
22 Saul commanded his servants, saying, "Speak to David in secret saying, 'Listen, the king delights in you and all his servants love you. Now therefore become the king's son-in-law.'"
23 So the servants of Saul spoke these words in the ears of David. And David said, "Does it seem to you a light thing to be a king's son-in-law, seeing that I am a poor man, and lightly esteemed?"
24 And the servants of Saul reported to him saying, "According to these words, David spoke." 25 Saul said, "Thus will you say to David, 'The king does not desire any dowry but a hundred foreskins of the Philistines, to be avenged of the king's enemies.'" But Saul thought to make David fall by the hand of the Philistines.
26 When his servants told David these words, it pleased David well to be the king's son-in-law. Now the days had not expired; 27 therefore David arose and went, he and his men, and killed two hundred men of the Philistines. Then David brought their foreskins and they gave them in full to the king, that he might be the king's son-in-law. And Saul gave him Michal his daughter for a wife.
28 When Saul saw and knew that the Lord was with David, and that Michal, his daughter, loved him, 29 Saul was yet the more afraid of David, and Saul became the enemy of David continually.
30 Then the commanders of the Philistines went out to make war. And when they went out David was more successful than all the servants of Saul, so that his name was highly honored.
Luke 11:1–28
1 He was praying in a certain place, and when He ceased, one of His disciples said to Him, "Lord, teach us to pray, as John also taught his disciples."
2 He said to them, "When you pray, say:
Our Father, who is in heaven,
hallowed be Your name.
Your kingdom come;
Your will be done
on earth, as it is in heaven.
3 Give us each day our daily bread.
4 And forgive us our sins,
for we also forgive everyone who is indebted to us.
And lead us not into temptation,
but deliver us from evil."
5 Then He said to them, "Which of you has a friend and shall go to him at midnight and say to him, 'Friend, lend me three loaves, 6 for a friend of mine on his journey has come to me, and I have nothing to set before him'; 7 and he will answer from within, 'Do not trouble me; the door is now shut, and my children are with me in bed; I cannot rise and give you anything'? 8 I say to you, though he will not rise and give him anything because he is his friend, yet because of his persistence he will rise and give him as much as he needs.
9 "And I tell you, ask, and it will be given to you; seek, and you will find; knock, and it will be opened to you. 10 For everyone who asks receives, and he who seeks finds, and to him who knocks it will be opened.
11 "If a son asks for bread from any of you who is a father, will you give him a stone? Or if he asks for a fish, will you give him a serpent instead of a fish? 12 Or if he asks for an egg, will you offer him a scorpion? 13 If you then, being evil, know how to give good gifts to your children, how much more will your heavenly Father give the Holy Spirit to those who ask Him?"
14 He was casting out a demon, and it was mute. When the demon had gone out, the mute man spoke, and the crowd marveled. 15 But some of them said, "He casts out demons through Beelzebub, the ruler of the demons." 16 Others, testing Him, asked Him for a sign from heaven.
17 But He, knowing their thoughts, said to them, "Every kingdom divided against itself is made desolate. And a house divided against itself falls. 18 If Satan also is divided against himself, how will his kingdom stand? For you say that I cast out demons through Beelzebub. 19 Now if I cast out demons by Beelzebub, by whom do your sons cast them out? Therefore they will be your judges. 20 But if I cast out demons with the finger of God, no doubt the kingdom of God has come upon you.
21 "When a strong man, fully armed, guards his own palace, his goods are peacefully kept. 22 But when a stronger man than he attacks and overpowers him, he seizes all the armor in which the man trusted and divides his spoils.
23 "He who is not with Me is against Me, and he who does not gather with Me scatters.
24 "When an unclean spirit goes out of a man, it goes through dry places seeking rest. Finding none, it says, 'I will return to my house, from which I came.' 25 When it comes, it finds it swept and furnished. 26 Then it goes and brings seven other spirits more wicked than itself, and they enter and dwell there. And the last state of that man is worse than the first."
27 As He spoke these things, a woman from the crowd raised her voice and said to Him, "Blessed is the woman who gave You birth and nursed You."
28 But He said, "Indeed, blessed are those who hear the word of God and keep it."