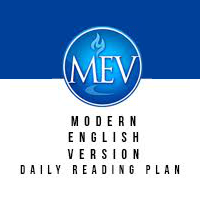 Psalms 37–39
A Psalm of David.
1 Do not fret because of evildoers,
nor be jealous of those who do injustice.
2 For they will quickly wither like the grass,
and fade like the green herbs.
3 Trust in the Lord, and do good;
dwell in the land, and practice faithfulness.
4 Delight yourself in the Lord,
and He will give you the desires of your heart.
5 Commit your way to the Lord;
trust also in Him, and He will bring it to pass.
6 He will bring forth your righteousness as the light,
and your judgment as the noonday.
7 Rest in the Lord, and wait patiently for Him;
do not fret because of those who prosper in their way,
because of those who make wicked schemes.
8 Let go of anger, and forsake wrath;
do not fret—it surely leads to evil deeds.
9 For evildoers will be cut off,
but those who hope in the Lord will inherit the earth.
10 For yet a little while, and the wicked will not be;
you will look diligently for their place, and it will not be.
11 But the meek will inherit the earth,
and will delight themselves in the abundance of peace.
12 The wicked plot against the righteous,
and grind their teeth against them.
13 The Lord will laugh at him,
for He sees that his day is coming.
14 The wicked have drawn out the sword
and have bent their bow,
to cast down the poor and needy,
and to slay those on the upright path.
15 Their sword will enter into their own heart,
and their bows will be broken.
16 Better is a little that the righteous has
than the abundance of many wicked.
17 For the arms of the wicked will be broken,
but the Lord supports the righteous.
18 The Lord knows the days of people of integrity,
and their inheritance will be forever.
19 They will not be ashamed in the evil time,
and in the days of famine they will be satisfied.
20 But the wicked will perish,
and the enemies of the Lord will be like the glory of pastures;
they will waste away, in smoke they will waste away.
21 The wicked borrows and does not repay,
but the righteous is gracious and gives.
22 For those who are blessed of Him will inherit the earth,
but those who are cursed of Him will be cut off.
23 The steps of a man are made firm by the Lord;
He delights in his way.
24 Though he falls, he will not be hurled down,
for the Lord supports him with His hand.
25 I have been young, and now am old;
yet I have not seen the righteous forsaken,
nor their offspring begging bread.
26 The righteous are gracious and lend,
and their offspring are a source of blessing.
27 Depart from evil and do good,
and abide forevermore.
28 For the Lord loves justice,
and does not forsake His saints;
they are preserved forever,
but the descendants of the wicked will be cut off.
29 The righteous will inherit the land,
and dwell on it forever.
30 The mouth of the righteous utters wisdom,
and their tongue speaks justice.
31 The law of their God is in their heart;
none of their steps will slip.
32 The wicked watch the righteous,
and seek to kill them.
33 The Lord will not forsake them to their hand,
nor condemn them when they are judged.
34 Hope in the Lord,
and keep His way,
and He will exalt you to inherit the land;
when the wicked are cut off, you will see it.
35 I have seen the wicked in great power,
and spreading himself like a luxuriant tree.
36 Yet he passed away, and he was not;
I sought him, but he could not be found.
37 Mark the blameless man, and consider the upright,
for the end of that man is peace.
38 But the transgressors will be destroyed together;
the end of the wicked is to be cut off.
39 But the salvation of the righteous is from the Lord;
He is their refuge in the time of distress.
40 The Lord will help them and deliver them;
He will deliver them from the wicked,
and save them, because they take refuge in Him.
Psalm 38
A Psalm of David. To bring remembrance.
1 O Lord, do not rebuke me in Your wrath,
nor chasten me in Your hot displeasure.
2 For Your arrows pierce me,
and Your hand presses down on me.
3 There is no soundness in my flesh because of Your indignation,
nor is there health in my bones because of my sin.
4 For my iniquities have passed over my head;
as a heavy burden they are too heavy for me.
5 My wounds grow foul and fester
because of my foolishness.
6 I am bent, I am bowed down greatly;
I go mourning all the day long.
7 For my sides are filled with burning,
and there is no soundness in my flesh.
8 I am numb and completely crushed;
I have roared because of the groaning of my heart.
9 Lord, all my desire is before You,
and my sighing is not hidden from You.
10 My heart throbs, my strength fails me;
as for the light of my eyes, it also is gone from me.
11 My friends and my companions stand back because of my affliction,
and those close to me stand at a distance.
12 The people who seek my life strike at me;
those who seek my harm speak destruction,
and plan treacheries all the day long.
13 But I, like a deaf man, did not hear;
and like a dumb man, did not open my mouth.
14 Thus I was as a man who does not hear,
and in whose mouth are no reproofs.
15 For in You, O Lord, do I hope;
You will answer, O Lord my God.
16 For I said, "Lest otherwise they should rejoice over me.
When my foot slips, they magnify themselves against me."
17 For I am ready to stumble,
and my pain is continually before me.
18 For I will declare my iniquity;
I am anxious because of my sin.
19 But my enemies are lively, and they are strong;
and those who wrongfully hate me are many.
20 Those also who repay evil for good are my adversaries,
because I pursue good.
21 Do not abandon me, O Lord;
O my God, do not be far from me.
22 Make haste to help me,
O Lord, my salvation.
Psalm 39
For the Music Director. To Jeduthun. A Psalm of David.
1 I said, "I will take heed of my ways
so that I do not sin with my tongue;
I will keep my mouth muzzled
while the wicked are before me."
2 I was speechless in silence;
I was silent to no avail,
but my anguish was stirred up.
3 My heart was hot within me;
while I was musing, the fire burned,
then I spoke with my tongue:
4 "Lord, make me to know my end,
and what is the measure of my days,
that I may know how transient I am.
5 Indeed, You have made my days as a handbreadth,
and my age is as nothing before You;
indeed every man at his best is as a breath." Selah
6 Surely every man walks in a mere shadow;
surely he goes as a breath;
he heaps up riches, and does not know who will gather them.
7 Now, Lord, what do I wait for?
My hope is in You.
8 Deliver me from all my transgressions;
do not make me the reproach of the foolish.
9 I was speechless, I did not open my mouth,
because You did it.
10 Remove Your blow from me;
I am consumed by the hostility of Your hand.
11 When with rebukes You correct a man for iniquity,
You consume like a moth what is dear to him;
surely every man is vapor. Selah
12 Hear my prayer, O Lord,
and give ear to my cry;
do not be silent at my tears,
for I am a stranger with You,
and a sojourner, as all my fathers were.
13 Turn Your gaze of displeasure from me, that I may smile,
before I go away and am no more.
Acts 26
1 Then Agrippa said to Paul, "You are permitted to speak for yourself." So Paul stretched out his hand and made his defense: 2 "King Agrippa, I consider myself fortunate that today I shall make my defense before you against all the accusations of the Jews, 3 especially because you are an expert in all customs and controversies of the Jews. Therefore I beg you to patiently listen to me.
4 "My manner of life from my youth, spent from the beginning in my own nation and at Jerusalem, is known by all the Jews. 5 They knew me from the beginning and could testify, if they wished, how according to the strictest sect of our religion I lived as a Pharisee. 6 And now I stand on trial for hope in the promise made by God to our fathers, 7 to which our twelve tribes hope to attain, as they earnestly serve God day and night. Concerning this hope, King Agrippa, I am accused by the Jews. 8 Why is it judged incredible by you that God raises the dead?
9 "I, too, thought that I must do many things contrary to the name of Jesus of Nazareth, 10 which I indeed did in Jerusalem and locked up many of the saints in prison by authority from the chief priests. And when they were killed, I cast my vote against them. 11 I punished them often in every synagogue and compelled them to blaspheme. And being extremely enraged against them, I persecuted them even to foreign cities.
12 "So I went to Damascus with authority and a commission from the chief priests. 13 At midday, O King, I saw along the way a light from heaven, brighter than the sun, shining around me and those who journeyed with me. 14 When we had all fallen to the ground, I heard a voice saying to me in the Hebrew language, 'Saul, Saul, why do you persecute Me? It is hard for you to kick against the goads.'
15 "I said, 'Who are You, Lord?'
"He said, 'I am Jesus whom you are persecuting. 16 But rise and stand on your feet. For I have appeared to you for this purpose, to appoint you as a servant and a witness both of what you have seen and of what I will yet reveal to you. 17 I will deliver you from your people and from the Gentiles to whom I now send you, 18 to open their eyes and to turn them from darkness to light, and from the power of Satan to God, that they may receive forgiveness of sins and an inheritance among those who are sanctified by faith in Me.'
19 "Therefore, King Agrippa, I was not disobedient to the heavenly vision, 20 but declared first to those at Damascus, then at Jerusalem and throughout all the region of Judea, and also to the Gentiles, that they should repent and turn to God and do works proving their repentance. 21 For these reasons the Jews seized me in the temple and tried to kill me. 22 Therefore having obtained help from God, I continue to this day, testifying both to small and great, saying nothing but what the prophets and Moses said would happen: 23 that the Christ must suffer, that He would be the first who would rise from the dead, and would announce light to His own people and to the Gentiles."
24 So as he made his defense, Festus said with a loud voice, "Paul, you are mad. Much learning is turning you to madness."
25 Paul said, "I am not mad, most excellent Festus. I speak the words of truth and reason. 26 The king, before whom I also speak freely, knows about these things. For I am persuaded that none of this is hidden from him, for this was not done in a corner. 27 King Agrippa, do you believe the prophets? I know that you believe."
28 Then Agrippa said to Paul, "You almost persuade me to be a Christian."
29 Paul said, "I pray to God that not only you, but all who hear me this day, might become not only almost, but thoroughly and altogether, what I am, except for these chains."
30 When he had said this, the king rose, as well as the governor and Bernice and those who sat with them. 31 When they had gone aside, they said to one another, "This man is doing nothing deserving death or imprisonment."
32 And Agrippa said to Festus, "This man could have been set free if he had not appealed to Caesar."